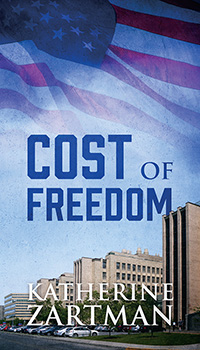 OFFICIAL DESCRIPTION*:
Is it the cost of missing legs, arms or sight, or is it something more valuable…
Walk through the dark halls of our VA's, filled with damaged men and the one woman who brings light back to their traumatic days and nightmare-filled nights. Arlene, a very experienced nurse, touches the lives of all she cares for. John, an armless vet in love with Arlene but unable to fulfill his dreams. Lars, another maimed vet, tall, blond, a damaged Viking, fragile, sensitive and falling in love with this sexual woman who knows his most intimate thoughts and body. Warriors stalled on distant battlefields and the woman who can stop the bullets with words of love and compassion.

* Courtesy of Outskirts Press book listing.
REVIEW:
There is nothing more beautifully sincere than a book by someone who has lived and loved (and in this case, lost as well) the kind of people that it paints so clearly and sympathetically. Such is the case with Cost of Freedom by Katherine Zartman, who was both the daughter of a WWII Colonel and a Vietnam veteran, declares in her book biography that she felt "well acquainted with the problems veterans face" and wrote this book (and its sequel) in the hope of "help[ing] readers gain a deeper understanding of the pain and trauma involved as vets transition back to civilian life."
This, she certainly accomplishes–and then some.
Zartman's book may be a work of fiction, but it is characterized by a rawness of emotion that quickly made me forget the occasional rawness of form. Even without the more romantic elements of this book (love triangles galore for those who seek out books specifically for them) I found myself cheering for our main character, Arlene, and celebrating her fineness of character. I'm not the most knowledgeable person when it comes to the tropes and tools of the romance genre, but from what I could tell the relationships were the realistic kind that can form in only specific situations and under the kinds of extreme pressures and stresses that VA hospital work and recovery can bring. I knew I was in safe hands as soon as Zartman started fleshing out Arlene's world with the kinds of little details that only someone who's been through that kind of experience would think to include in a book, like the intricacies of helping an injured or incapacitated soldier maintain his dignity in the bathroom when in need of assistance, or the careful management of patient safety by way of checks, balances, and a guy named Mike. (You'll see what I mean when you get there.)
This is a book that really ticks along. It's not terribly long, really–I suppose you might call it a novella in respect to length, and recently I've been reading a lot of novellas. They're short, sweet, and to the point–and they feel as rewarding and compelling as novels without being as daunting. With so many people (including myself) struggling to move through our TBR (to be read) piles at our usual paces, I think it's important not to undervalue the importance of a book that knows where it wants to go from the first page and gets there in under 200 pages. It's also a testament to Zartman's eye for story that she knows exactly which scenes to share in order to make Arlene's days feel both full and rich in detail.
I'm excited to have discovered that there is a sequel–Cost of Freedom II–that is already out in the world. While this first novella feels complete in and of itself, I wouldn't mind spending more time learning about the minutiae and emotional weight of Arlene's work within the VA hospital, particularly her interest in assisting those with PTSD. A number of my friends struggle with varying forms of this disorder, and it can be difficult to learn more about how to be the best possible friend to them without re-traumatizing them. Accessing some of the complexities of PTSD through a fictional set of characters and circumstances (some of them inspired by Katherine's own experiences, I think) provides a safe place for me both to learn more and have a conversation about it that doesn't require them to revisit their own traumas and possibly trigger an episode. "So I was reading this great book the other day, and one of the characters goes through something really interesting and I would love to hear your take on it …" is always a great way to tackle tough subjects, in my opinion.
Sorry for rambling a little bit here about my personal life! I just think it's an incredibly important subject (or a collection of very important subjects, since this book really tackles quite a lot) and one that I am truly excited to have an insider perspective on, even if fictionalized.
IN SUMMARY:
Inspired by her own life and experiences, Katherine Zartman introduces readers to Arlene, an experienced nurse at a VA hospital, who carefully and thoughtfully seeks to navigate the inner worlds and outer bodily needs of patients who may or may not be more than a little bit in love with her. Inflected with just enough romance to add a bit of spice, this novella-length work knows exactly what it's doing.
WHERE TO BUY?
You can find Cost of Freedom wherever good books are sold, including Amazon and Barnes and Noble. You can also find out more about Katherine Zartman's work on the book's Outskirts Press author page.
WHAT NEXT?
It's been quite the busy month around here, and I have no doubt it's equally busy for everyone else! I have been working steadily to bring in the fall harvest from my overgrown and overwhelming garden, which is more or less entirely sunflowers, squash, and misbehaving greens (like kale and collards) at the moment. My cherry tomatoes have finally ripened, but I'm still waiting on my regular ones–and the weather is already getting down too low for my comfort at night. So I'll be staving off frost and such for the next little bit, but I promise to bring you more bookish thoughts in two weeks! Watch this space.
I received a copy of this book in exchange for an honest review.
* Courtesy of Amazon book listing.
---

ABOUT KENDRA M.: With nine years in library service, six years of working within the self-publishing world, as well as extensive experience in creative writing, freelance online content creation, and podcast editing, Kendra seeks to amplify the voices of those who need and deserve most to be heard.